Individualized care for cats
Each cat is unique and is affected by its breed (see common purebred & breed specific health conditions), health history, age, habits, environment and quality of life. At The Cat Practice, our feline veterinarians and veterinary nurses (licensed veterinary technicians) treat each cat as an individual. We work closely with feline families to provide options for care and to help you make the right decisions for you and your pet.
What you will NOT find:
An "in and out" approach to care.

The lowest cost.

"One-size-fits-all."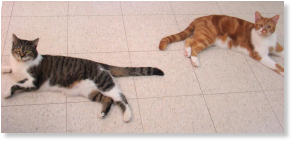 What you will find at The Cat Practice:
Options for care.

We treat each cat as an individual.

Human-quality care.

Holistic approach.

Preventive care.

Hands-on nursing care.

Longer appointments.

Open door policy.

Open 7 days a week and evenings.